Between the Gen 2 (Pokemon Crystal) and Gen 3 (Pokemon Emerald) playthroughs, the streamer played some episodes from the Pokemon anime via Game Boy Advance Video: Pokémon, I Choose You!.  These episodes came from a GBA cart.
Video over the stream
Edit
While the videos played over the stream, input controls were left active, meaning that players could still input gameboy commands.  This led to the video being fast-forwarded, rewinded, and paused very often.  The effect was said to be similar to "watching a Youtube Poop" according to many users.  Some users began calling it "Twitch Plays with the Remote" or "Twitch 'Plays' Pokemon".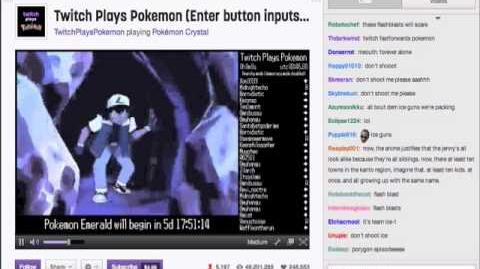 Episodes played
Edit
Pokemon - I Choose You! (Pokemon s01e01)
Here Comes the Squirtle Squad (Pokemon s01e12)
Chaos Control Freaks (Sonic X s01e01)
Ad blocker interference detected!
Wikia is a free-to-use site that makes money from advertising. We have a modified experience for viewers using ad blockers

Wikia is not accessible if you've made further modifications. Remove the custom ad blocker rule(s) and the page will load as expected.