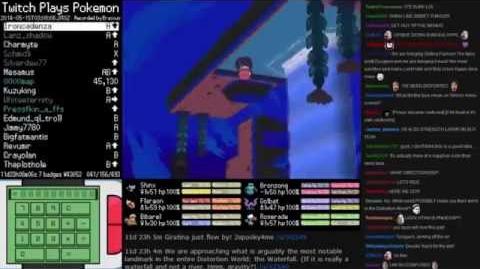 The Distortion World is the world where Giratina dwells. It is where time does not flow properly and space is unstable.
Napoleon came here to fight Cyrus and Giratina.
Bronzong (Platinum 1) ended up being the one to deliver the last blow to Giratina, where it earned the nickname "The Shadowslayer" afterwards.
This location spawned at least two different memes.
Oh no! ༼ つ ಥ_ಥ ༽つ ỏ̷͖͈̞̩͎̻̫̫̜͉̠̫͕̭̭̫̫̹̗̹͈̼̠̖͍͚̥͈̮̼͕̠̤̯̻̥̬̗̼̳̤̳̬̪̹͚̞̼̠͕̼̠̦͚̫͔̯̹͉͉̘͎͕̼̣̝͙̱̟̹̩̟̳̦̭͉̮̖̭̣̣̞̙̗̜̺̭̻̥͚͙̝̦̲̱͉͖͉̰̦͎̫̣̼͎͍̠̮͓̹̹͉̤̰̗̙͕͇͔̱͕̭͈̳̗̭͔̘̖̺̮̜̠͖̘͓̳͕̟̠̱̫̤͓͔̘̰̲͙͍͇̙͎̣̼̗̖͙̯͉̠̟͈͍͕̪͓̝̩̦̖̹̼̠̘̮͚̟͉̺̜͍͓̯̳̱̻͕̣̳͉̻̭̭̱͍̪̩̭̺͕̺̼̥̪͖̦̟͎̻̰̞̖̠̣̦̰̙͕ I spilled my reality!
o͡͡͡͡͡͡╮༼;´༎ຶ.̸̸̸̸̸̸̸̸̸̸̸̸̸̸̨̨̨̨̨̨̨.̸̸̨̨۝ ༎ຶ༽╭o͡͡͡͡͡͡" Something connected to the distortion world o͡͡͡͡͡͡╮༼;´༎ຶ.̸̸̸̸̸̸̸̸̸̸̸̸̸̸̨̨̨̨̨̨̨.̸̸̨̨۝ ༎ຶ༽╭o͡͡͡͡͡͡"
Ad blocker interference detected!
Wikia is a free-to-use site that makes money from advertising. We have a modified experience for viewers using ad blockers

Wikia is not accessible if you've made further modifications. Remove the custom ad blocker rule(s) and the page will load as expected.