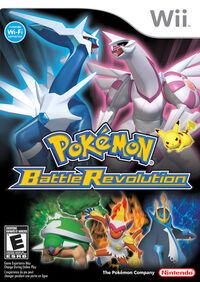 Pokemon Battle Revolution for the Wii Console, often abbrviated to PBR, started after the end of the Pokemon Omega Ruby run and prior to the Pokemon Red Anniversary run. It was temporarily suspended for 39 days in order to play the Pokémon Red Anniversary run. Afterwards, it was resumed, with Vietnamese Crystal in Democracy Mode being played between battles. It was suspended again on 10 May for Touhoumon and Moemon and reinstated on 24 May.
It has been confirmed that PBR will retain the betting aspect featured in Pokemon Stadium 2 and all balances will carry over, with those lesser than or equal to 999 Pokedollars being reset to 1000 Pokedollars.
The generally agreed names for the two trainers in this game are Rusty (Red team) and Maya (Blue team).
The website TwitchPlaysLeaderboard acts as a database of matches, recording details such as which Pokémon battled on which teams and the bets. It also records the financial details of betters with regards to Pokéyen and tokens, and also keeps a record of Vietnamese Crystal and Trading Card Game screenshots.
Ad blocker interference detected!
Wikia is a free-to-use site that makes money from advertising. We have a modified experience for viewers using ad blockers

Wikia is not accessible if you've made further modifications. Remove the custom ad blocker rule(s) and the page will load as expected.