Stream Viewership by Day
Edit
Twitch Plays Pokémon Crystal started with around 62,900 players (during sleep hours) and reached viewership peak at around 89,000 viewers in around 8 hours. Day 1's average was around 71,800 viewers.
Viewership then fell quickly, with day 3's average around 37,500 viewers. It stabilized in day 4-5 staying at an average of around 13,000 viewers for the rest of the Crystal playthrough.
Red was defeated with 17,101 viewers and Twitch Plays Pokémon Crystal ended with around 10,900 viewers.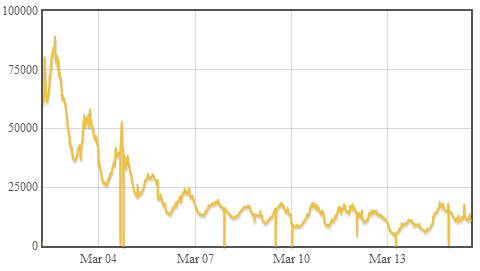 Ad blocker interference detected!
Wikia is a free-to-use site that makes money from advertising. We have a modified experience for viewers using ad blockers

Wikia is not accessible if you've made further modifications. Remove the custom ad blocker rule(s) and the page will load as expected.