The Elite 4 represent the highest challenge for any Pokémon Trainer. Defeat all four, and become Champion; though you'll have to defeat the existing Champion if there is one. In Randomized FireRed, the Elite 4 all had their types changed. Though they gloated about their legendary skill with their storyline type, they often used a type completely different.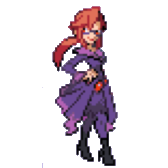 Lorelei, originally an Ice-type Trainer, now uses the feared Ghost type. Her team consisted of two Dusclops, a Banette, and two Gengar.
Her sprite takes inspiration from Mismagius, despite it being a Generation 4 Pokémon.
Bruno, originally a Fighting-type Trainer, now uses Normal types. His team consists of two Pidgeotto, a Zangoose, a Raticate, and a Snorlax.
Bruno has finally put on a shirt according to his fan-made sprite. Many rejoiced at this.
His Snorlax proved to be quite a tank, combining high defense, high health, and the attack Softboiled to heal.
Bruno shares a type with Norma (Sabrina).
Agatha, originally a Ghost-type Trainer, now uses Water types. Her team consists of a Gorebyss, Seadra, Croconaw, Mantine, and a Milotic.
Many on Reddit tried to avoid pictures of an old woman in a swimsuit, leading to artwork like the sprite.
Despite the troubles the Mob had against Wallace's Milotic, Agatha's was easy. It was her Gorebyss that spammed healing attacks.
Lore/PersonalityEdit
Agatha's sprite closely resembles Drake's from Emerald. Leading to some suspicion the two are related.
Lance, originally a Dragon-type Trainer, now uses Poison types. His team consists of a Muk, Weepinbell, a Gloom, and two Crobats.
Lance shares a type with Noxie (Misty).
Lore/PersonalityEdit
Lance is often shown to be the person who taught Noxie (Misty) about Poison and Poison types.
Ad blocker interference detected!
Wikia is a free-to-use site that makes money from advertising. We have a modified experience for viewers using ad blockers

Wikia is not accessible if you've made further modifications. Remove the custom ad blocker rule(s) and the page will load as expected.