ABnp3a

Character Data

Age
Unknown
Gender
Female
Season
Gen 5
Alignment
Aurora Royalty

In-Game statistics

Team
True Prophet
Arceus
Unknown
Unknown
Unknown
Unknown
Title
Lady of Aurora, Warlord of Ransei
Status
Unknown (Presumed dead due to Conquest run set in past)
ABnp3a, sometimes called Lord A.B. the Third, is the main protagonist of the Pokemon Conquest playthrough.
Born in the kingdom of Aurora, ABnp3a was the first host of the voices (8th chronologically because Pokemon Conquest run started after Pokémon Black run) and Leader of the Kingdom of Aurora. Her main Pokémon was an Eevee. While following the path of Democracy, she met a man named Nobunaga. He wanted to conquer all of the Rensei and ABNp3a decided to stop his atrocity. After conquering all of Nobunaga's territories, ABnp3a's Eeveee evolved into a Vaporeon, which made people call him The True Prophet. ABnp3a fought with Nobunaga but he escaped.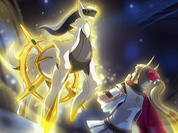 Lord A.B went to the Infinite Tower with her allies, She eventually defeated Nobunaga,
almost
ending the game, but she had a difficult time linking with Arceus. People plead for the Streamer to help them. Eventually, the Streamer answered their prayers and completed the link, allowing the
Hivemind
to complete the game's true final battle. People pretended Arceus was the Streamer and considered ABnp3a as the first and the only host that met the Streamer (Arceus).
Arceus helped ABnp3a, and together they defeated Nobunaga. Pokémon Conquest was beaten.
The Hivemind called her "Lord/Lady A.B." because she was the ruler of Aurora Kingdom.
Ad blocker interference detected!
Wikia is a free-to-use site that makes money from advertising. We have a modified experience for viewers using ad blockers

Wikia is not accessible if you've made further modifications. Remove the custom ad blocker rule(s) and the page will load as expected.